Oh Summer – you wonderful, glorious thing! In one swift forecast, you turned our 'no plans' weekends into a haze of spontaneous BBQs and trips to the seaside. And for many of us, you brought around the main event, the pinnacle of our diary entries… our much anticipated summer holidays!
Whether you're a beach-hopper, adventure junkie or the epitome of a traditional British seasider, we all have one thing
in common – taking FAR too many holiday photos. And now that summer is long gone, how best to cherish those sundrenched memories?
After a dreamy trip to Lisbon last month, I was determined to hold onto to that breezy vacation vibe for just a little bit longer. Flip flops around the house? An absolute must… until you lose all feeling in your toes, somewhere around mid-November. But bringing holiday snaps into your day-to-day life is easier than you might think!
Here are seven suggestions on how to make the most of your holiday pictures.
1. Photos are great at triggering memories, but so are the little trinkets you pick up along the journey. Create a memory jar by printing out your favourite photo from the holiday and display it in a pretty jar or glass bowl, together with any tickets, shells or small mementos you brought back from your trip.
2. If like me, you always forget to send postcards whilst you are actually on holiday, never fear! Make your own postcards by uploading that award worthy 'holiday sunset' shot to our design tool and send a personalised postcard straight to grandma or your besties.
3. Why not turn leftover foreign coins into magnets and use them to display a few pictures on your fridge? Grab a pack of round magnets and some glue from your local craft store, clean your coins and stick the magnet to the coin with a small amount of glue. Hey presto!
4. You can never have too many key rings! Create a gorgeous custom key ring and carry your favourite holiday snaps with you at all times.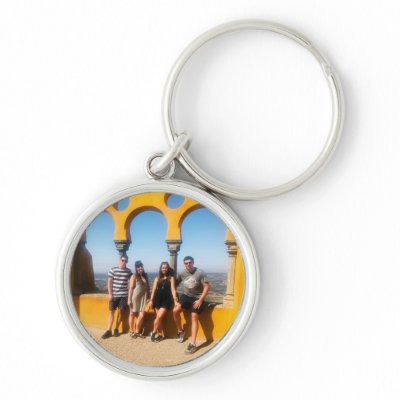 5. Make DIY photo bunting with some wooden pegs and a piece of twine. You can swap your photos around and replace whenever you fancy a change.
6. Is your phone forever by your side? Upload your best snap onto a custom phone case or create a photo collage of your holiday to show off to the world!
7. I love making a custom photo calendar from my holiday pics, as they allow for a whole years' worth of reminiscing (long enough to last until your next trip away!) Save your most cherished pictures for the colder months; they will help you to daydream about summer whilst you are wrapped up inside. If you don't have 12 pics, choose one standout snap and upload it to a piece of wall art. 
So that's what I'll be making to remind myself of my recent trip, but there are hundreds of other products on Zazzle that you can customise with your own snaps. Upload your pics to everything from gift wrap to the bath mat!